Everyone loves lists, right? I'm pretty sure there are entire websites built on that concept. Well, we love lists too, and so it's time to go over our Top Ten Products of 2017! Like every year, the list is devised using margin dollars, so the list isn't all car parts, glue, and paint — and while the words accompanying the products are opinion, how they placed isn't something we change. What follows are the Top Ten Products we sold this year, and I'll warn you now: it's a lot of Traxxas — which should suprise no one.
Position Last Year: 10th
We're starting things off with the Traxxas Rustler, held firm in tenth place. The Rustler's low price and low center-of-gravity means it can tear up the cul-de-sac with ease and pretty much anyone can drive it. The shear versatility of the Rustler keeps it on the list in tenth, but it climbs no higher in 2017.
Position Last Year: 5th
If it feels like the Stampede has been on this list forever, it's because it has. At the end of nearly every year since we've started these lists, the Stampede is there, much like it's a mainstay in our store. Dependable, affordable, and exciting to drive, the Stampede will probably be a regular on this list for years to come.
Position Last Year: N/A
The 30C version of our 5000mAh 2S LiPo batteries are making their first appearance on our list, though we've been selling them for nearly four years. That's a testament to how dominate LiPo batteries have become since then, though if you glance further up the list, there's another, bigger, example of the popularity LiPos now enjoy. Still, it's an impressive feat to reach eighth when it hasn't placed at all before now.
Position Last Year: 9th
The Kinexsis KX80 takes everything you need in a charger and delivers it for a great price point. It's more flexible than the Traxxas EZ-Peak Plus, since it can charge more than two kinds of batteries, and it's more powerful too, delivering twice the wattage of its Texas-based competition. Still, that wasn't enough to overcome the popularity of the EZ-Peak, but it still lands on our Top Ten of 2017.
Position Last Year: 6th
2017 saw the release of the 8S version of the X-Maxx, which increased its price tag up to $900, which didn't slow the X-Maxx down at all. It hits sixth place for the second year in a row, cementing it as a staple product in our store. Where the X-Maxx goes from here remains to be seen, but one thing's for sure: it will get there with authority and speed.
Position Last Year: 3rd
Even though E-Revos saw a slump in sales this year, they still held on to a spot on our list, and with the recent price drop, it wouldn't surprise me at all to see the E-Revo surge back up the list in 2018. It's still one of the best 1/8th scale monster trucks in the world, and handles better than most, if not all, of the competition. Look for a return to form from the E-Revo next year.
Position Last Year: 4th
It's tempting to place success of the Traxxas EZ-Peak Plus solely on the shoulders of Traxxas' innovative iD battery technology, but it's not that simple for us as we don't carry Traxxas' LiPo batteries. So the popularity of this charger comes down to it's great price point and ease of use, even for non-iD batteries. None are as good as Traxxas at making something highly technical easy to use, and therefore it's no surprise to see the EZ-Peak Plus hold firm in 4th place.
Position Last Year: 2nd
When the product that unseats you is a battery that works in nearly every truck we sell, it's hard to be upset. The Slash 4x4 only fell a single spot, and that shows just how popular the short course platform continues to be. Challengers are out there, but so far, none can contend with the Slash 4x4.
Position Last Year: N/A
What a jump for these batteries! From being edged out in 11th place last year to 2nd overall in 2017, it's been a good year for LiPo batteries. You'll be seeing more of these batteries as the years go on, and LiPo batteries become not just dominant, but the standard battery of radio control — a future not all that far away.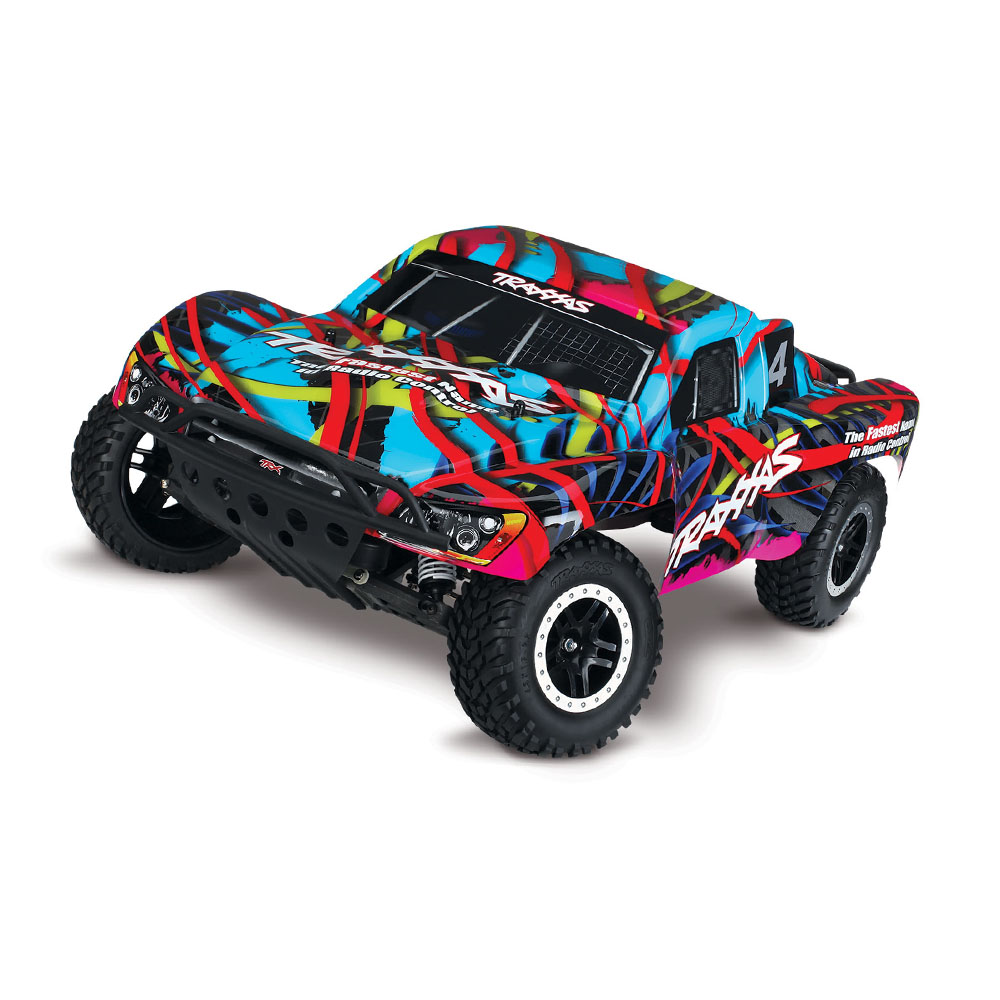 Position Last Year: 1st
Making the best out of a mediocre year is the Slash 2WD, the reigning champion on our list. It claims the top spot for a second year in a row, which is little surprise. It has placed every single year it's been out, and sales continue to be strong. While other manufacturers try to gimmick their way to success, the Slash will sit quietly, largely unchanged since its original launch, destroying the competition.
Despite the kerfuffle over Traxxas' connectors, they still dominated our sales for the year. Companies like ARRMA and ECX nip at Traxxas' heels, but they are unable to gain ground in any meaningful way, so for now, Traxxas stays on top.
Notables
Not all the products worth mentioning were in the top ten. Sometimes, the things you don't' see are the ones that need to be discussed. Here are some notable items that didn't make the cut, but reveal something interesting about our store, our market, and our customers.
Last year, it placed seventh, and the year before, it was fourth. This year, it's disappeared off the list entirely, having dropped down to 11th. I'm not sure why the Ultimate edition didn't perform well in 2017, but my best guess is the price reduction of the E-Revo combined with the overall decline in sales across the board.
Revolution Forge 1:12 MT RTR
Despite a late-year launch, the Forge monster truck landed in a sold 18th place on our list, which is impressive because our list favors items we've had all year, due to the cumulative way we calculate the totals. For the Forge to make it even onto the list, let alone that high, is pretty cool for this new brand and vehicle.
Despite climbing up to 8th place last year, the Dromida Vista FPV is nowhere to be seen on this list, and in fact isn't even within the top twenty-five. The decline of the Vista FPV is yet another reminder the halcyon days of drones are behind us, and it's only going to get harder from here on out.
When the X-Maxx debuted last year, it reached 6th on our Top Ten. When the Slash came out, it also earned a spot. Since the TRX-4 Defender was a big step for Traxxas, it's disappointing it didn't place at all — in fact it sits in lowly 23rd. That position is a telling glimpse into just how far we have to go in the crawler market.
2017 was a long, slow year. With it now behind us, and 2018 offering a new chapter and maybe even a glimmer of hope, the question remains: what will make the list next year? What new product or innovation will shake up the status quo? We'll have to wait and see what makes next year's Top Ten Products!