It's been a year since I last travelled the rows of vendors at the SeaGate Center in Toledo, OH. Though I've come to the Weak Signals show for the majority of the last 20 years, for some reason it's as if I am walking through the doors for the first time, every time. I don't know why I forget what it feels like, but in a way, I'm glad that I do. It feels like discovering something for the first time, again.
But there was less here to discover than previous years. Despite the slew of product announcements in January, there was little to see at the show that I hadn't seen before. There were more hobby shops and dealers on the show floor than ever before, at least to my eyes. There also seemed to be more people, in general, early on; the numbers petered off as the day progressed.
There were some things worth seeing; not all of it was more of the same. We got to see the Blade 200SRX fixed-pitch helicopter. I was surprised as to the size of it – I expected it to be bigger than it was. Not that its small stature is a bad thing; I quite like the size. It's a tad bigger than the 120SR, for reference. I talked at length with Sean Sullivan of Blade, who mentioned that despite its small size, he expects the Blade 200SRX to fly outdoors better than the 180QX quadcopter, which we here know to be a great option for a mid-size outdoor heli. I'm excited to get my hands on this fixed-pitch chopper.
Sean and I also talked at length about the two newest quadcopters to be released. First, let me say the Blade 200QX is super cute and tiny. As we've seen in the pictures, it's essentially a miniaturized version of the Blade 350QX in appearance. The battery door is on the bottom instead of the top, but other than that, it's a pretty close copy. Sean said that the Blade 200QX is not in any way replacing the 180QX, citing the difference in price and power as the main reasons Blade doesn't feel these two products overlap much. I still have my reservations about the viability of this quad-rotor platform, but the Blade guys seem to believe in it, and they don't get much wrong.
We also chatted about the 350QX version 2 and the upcoming 350QX AP. I asked about the possibility of a 3-axis gimbal for the 350QX in the future, and Sean towed the company line with something akin to "we don't discuss future products that we may or may not be pursing". Reading between the lines, I suspect it's something they're working on; I don't think it's much of a leap to assume that. Whether it ever makes it to market is yet to be determined, but I think it's safe to assume they've thought about it.
I also asked about the possibility of a waypoint system on a future version of the 350QX, and again, Sean held his cards close to vest. When I pressed him on the legality (currently an R/C vehicle stops being a recreational hobby product and starts being a UAV when the pilot is not in control), he admitted that it's something the Blade team and Horizon's lawyers are constantly worried about. I was informed that even the current "Return to Home" functionality is a source of some contention in other parts of the world, as technically the pilot is not in control of the quad while the feature is being used. Again, I suspect a waypoint system is actively being worked on, but I doubt it will see prime time until the law is clearer on these issues.
It was troubling that Horizon did not have a 350QX AP at the show. This has lead Roger and I to see the late summer release date as dubious at best, and in all likelihood, we expect to see the 350QX AP delayed.
I also got to check out the new Spektrum DX6 transmitter. It's every bit as nice as it looks in the pictures. The DX6 is super comfortable to hold with it's black rubber grips. It feels a little thinner than the DX7S and DX8, though I'm not sure it is. The menu looks to be similar to the DX18 and DX9's architecture, and allows the user to access all the settings without delving into other menus that require a radio reboot. I am very impressed with the fit and finish of this transmitter, and I think Spektrum has yet another winner on their hands. I can't wait for this radio to be released.
Speaking of quadcopters, HeliMax had a new entry in their four-rotor lineup at the show as well. The HeliMax 230Si is around the same size as the Blade 180QX or the LaTrax Alias (read our review of the Alias here), but it features some neat tricks. It has "Actual Direction Control", where the controls are relative to the pilot, not the heli. It also has a "Return to Pilot" feature, which, while similar in name to the "Return to Home" of the Blade 350QX, works very differently (there is no GPS on the 230Si), and is not as accurate, especially in an area lousy with excess radio noise. But it's still a cool feature to have. It comes with its own 720p camera (if you buy it that way), which is likely better than E-Flite's current offering, based on the good quality of the older HeliMax 1SQ VCam's included camera. This quad will sell for $179.99 with the camera, and $149.99 without, and they should be shipping sometime in late April.
Newly announced yesterday, the Parkzone Sport Cub looks like a great second airplane. It's a five channel aircraft (with flaps), making it great for the pilot transitioning from the three-channel Super Cub. It comes with the oversized "tundra" tires (which I wish would come on every park flyer – I mean who has pavement to take off from in a park?), and vortex generators on the wing. There is an optional float kit for it as well. It will be offered as a Bind-N-Fly ($220) and a Plug-N-Play ($180).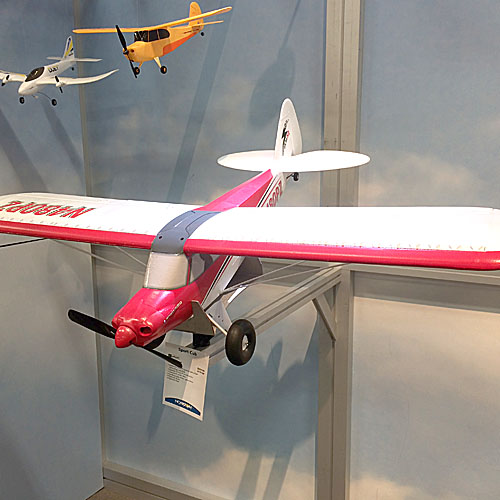 ParkZone's new Sport Cub looks like a lot of fun
Roger and I also had the opportunity to talk to Janet Ottmers, VP of Sales at Horizon Hobby. She thanked us up front for our years of business with Horizon, something that impressed me she knew about us off the top of her head. It's true we've been with Horizon for over twenty years. We talked about the Horizon's future, and what they were doing in response to the threat that Chinese-direct sales pose to the US hobby industry. The main takeaway was innovation and exposure. Janet believes (rightly so) that there is a huge untapped potential for radio control products in the mainstream market. As popular as R/C has become, it's still pretty much "underground"; the vast majority of the public still doesn't know there is a world beyond Toys 'R Us and Radio Shack. It's something Horizon appears ready to tackle, and while Janet couldn't share any details with us, I expect they'll handle it the way they do everything else – professionally and passionately. It was truly a pleasure to chat with Janet.
I also have to give a shout out to the place Roger and I had lunch. Pizza Papalis was fairly busy when we sat down, which wasn't unexpected, as there was also a baseball game happening later that day, and the restaurant is adjacent to the diamond. Anyway, we ordered our food and casually chatted. After what didn't seem like a long wait, the manager brought us our food and apologised for the delay, and said they would be comping one of our meals. We protested, saying that it wasn't necessary, but he insisted. We ate (great food, by the way) and then asked for the check. When we got it, we found that BOTH our meals had been provided free of charge. We flagged the manager down and questioned it again, and again he insisted that we had waited 45 minutes for our food (which, while I didn't time it out, I find hard to believe), and stood by his descision. We ended up leaving a larger than normal tip, but it still felt like we got away with something for nothing. So a giant tip of the hat to Pizza Papalis of Toledo, OH for outstanding customer service.
As I'm sitting at the front of our chartered bus, listening to our customers chatting behind me, I'm pleased with our trip this year. The group we took down was fantastic. All were on time, and most were early at every step. The trip went as smoothly as it could have, which as much as we could ask for. This year's trip has left me ready for next year's, when I will have forgotten what it's like to walk through the SeaGate's doors and discover the Toledo Show all over again.